Choosing the Right Semi Truck Ramp for Your Facility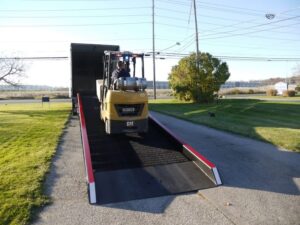 Copperloy semi truck ramp models and tractor trailer ramps help teams of all kinds maximize safety, efficiency and profitability in the workplace. The Copperloy team knows that truck ramps need to be capable of handling heavy workloads on a constant basis. If ramps are unreliable, then the efficiency and safety of your facility and employees decline. In all, the professionals from Copperloy want to help you keep your employees safe and your facilities productive and efficient.
Copperloy has designed space-efficient semi truck ramps that both amplify productivity and improve safety. With ground-to-truck grade level access onto semi-truck beds, you can transform any open yard or space into a portable loading dock.
Forklifts can easily enter the back of a semi to unload materials. Whatever the task at hand, Copperloy semi truck ramps can help you accomplish the goal.
Benefits & Features of America's Ultimate Semi Truck Ramp
Copperloy's hydraulic tractor trailer ramps are undoubtedly safer and more efficient, thus improving the overall process of loading and unloading products. The ramp operates off a single-hydraulic system producing less pressure and quicker lift times than the standard two-cylinder hydraulic systems. Offering ease of operation with the hydraulic pump conveniently located outside of the ramp which protects from damage and debris.
Ramps are available in aluminum and steel and have ranges of 38″-65″ for height; 36′ for length; 70″-84″ for width and capacities of 16,000-35,000 depending on the ramp's material. This, along with a centrally-located cylinder, reduces the chances of tipping and provides significant stability. The strategic positioning sleeve placement limits wear and tear, while maintenance-free tires with 18″ solid filled, pneumatic tires eliminate puncture risk.
With 60 years of experience, Copperloy maintains its position as a leading provider of loading equipment with strength, stability, safety, efficiency, and durability being the team's main focus.
Plus, Copperloy provides financing options for ramp purchases. In addition, customers can choose from an extensive selection of rental and certified pre-owned options for their facility upgrades.
Custom Steel Fabrication and Design Capabilities From Copperloy
No two facilities and no two project goals are the same. For this reason, the team of manufacturers from Copperloy are proud to offer leading custom steel fabrication and design services. Count on the team from Copperloy to customize a freight handling solution to fit your facility layout and your goals.
Copperloy offers a selection of materials to suit nearly any facility and nearly any project goal. Without a doubt, you can count on the team to fabricate beryllium copper, extruded aluminum, specialty steels, stainless steel and more.
Just some of the Copperloy team's past custom projects have included lift tables, rebar pallets and dock to ground ramps for example. To streamline operations, the Copperloy team keeps all burning, painting, machining and fabricating capabilities in one space. This both facilitates communication across departments and ensures optimal value for the customer. Reach out to the customization team from Copperloy today to find out how the company could add to your next project.
About Copperloy
Planning to add a durable semi truck ramp to your space? Companies from across a diverse range of industries count on Copperloy for top-quality freight handling installations. The company has become a go-to resource for military, light assembly and energy teams along with many others.
Customers count on the Copperloy team for durable yard ramps, edge of dock levelers, specialty ramps, dock boards, dock plates and more.
To keep product quality as high as possible, the Copperloy team keeps the most current in both robotic and computer numerical control (CNC) technologies.
Are you and your colleagues ready to transform your space for optimal safety, efficiency and profitability? If so, then connect with the team of manufacturers from Copperloy today. Simply visit https://copperloy.com/ today to find out how the Copperloy team could help you with your facility upgrade.